Riverbed bietet Unternehmen leistungsfähige, kostengünstige und sichere IT-Services.
Die Herausforderung
Vielen Unternehmen war überhaupt nicht bewusst, dass sie ein Problem haben oder dass manche technischen Herausforderungen mit Software gelöst werden können. Und sie wussten nicht, dass sie sich mit diesen Herausforderungen an Riverbed wenden konnten.
Die Lösung
Mithilfe von internen und externen Datensätzen sowie Intent- und Vorhersage-Engines wurden die Accounts segmentiert. Gemeinsam mit dem Vertriebsteam von Riverbed identifizierten wir Unternehmen auf dem Markt und wählten insbesondere solche aus, die den vier von Riverbed angebotenen Hauptlösungsbereichen entsprachen.
Nachdem wir den Entscheidungsfindungsprozess abgebildet hatten, entwickelten wir eine maßgeschneiderte Aktivierungsstrategie.
Jede Person in jeder Phase des Kaufzyklus wurde kontaktiert, wobei Telemarketing, E-Mails, programmatische Werbung, Retargeting, native Werbung, organische Werbung in Social Media, bezahlte Werbung in Social Media, Social Selling, Events, Content Syndication und Direktnachrichten eingesetzt wurden. All das förderte das Engagement auf Account-Ebene.
Das hat auch die kreative Botschaft der gesamten Kampagne geprägt. Wir haben in erster Linie Ziel-Accounts angesprochen und während der gesamten Betreuung im Rahmen der User Journey auf ein einheitliches Erscheinungsbild geachtet.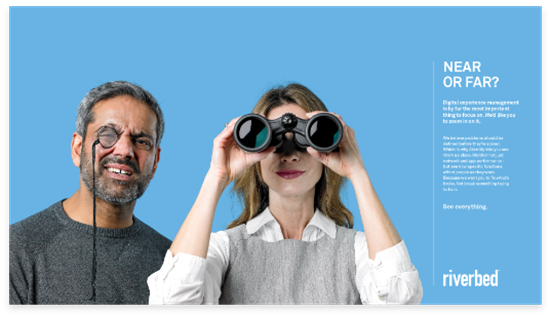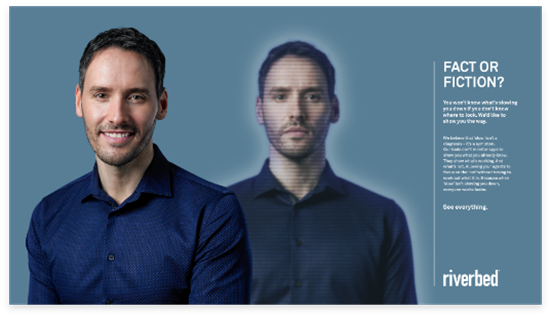 Our Sales and Marketing team used insights like never before…
They were used to validate and select the right accounts, identify priority accounts and validate the whitespace accounts to be included in our activation plan – driving awareness and leads through a variety of marketing activities.
James Houselander, Regional Marketing Manager, Riverbed
Die Ergebnisse
Die Ergebnisse