Ch ch ch ch changes: Turn and embrace the growth.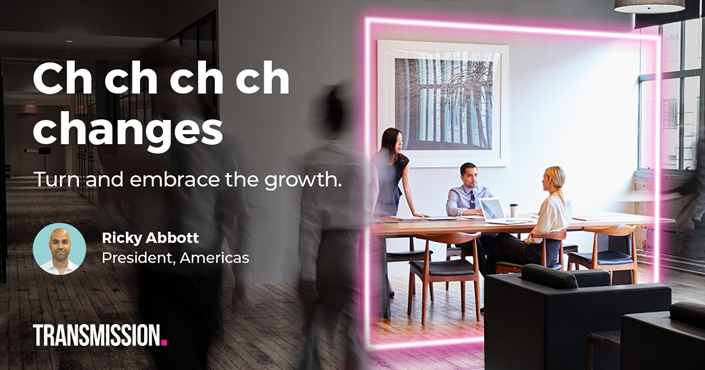 Transmission announces continued US growth and opening of new offices.
Okay, I'm ripping off the late great David Bowie here as clickbait for an interesting title.
There I said it.
However, when I was trying to think of what I wanted to say here, there was no better word than, "Changes".
Just over two years ago, I was sitting in our office in London, working and living the British lifestyle. Two years later, I'm in sunny California, we've built a North America business from scratch and now have over 80 people spread across offices in San Francisco, Austin, Denver and New York. I make no qualms about it; it's not been all plain sailing. Aside from the C-word screwing everything up for everyone, like many others, we have had some challenges along the way.
Tripling the size of a business whilst everyone is working remotely and maintaining a fun loving, innovative, energetic culture is not easy. At the same time, adding three new offices across two additional time zones in North America to help service our clients adds its own complexities.
What's been exciting for me is the sheer amount of change we've had, meaning every day is new and it certainly keeps things interesting. Bringing me neatly to some of our ch ch changes.
One of the biggest has been a mentality one. We have been so busy working with our amazing clients that we took very little time to look at ourselves. Our positioning did not reflect the business we were becoming.
Recently, you'll have seen that we've had a bit of a brand refresh with our new tag line calling out "Driving the Now. Defining the Next."  As we've grown to become the world's largest global independent B2B marketing agency, the change we've experienced has been immense.
In North America, from our four office locations we maintain a diverse, vibrant culture, with some amazing people working with us helping solve our clients increasingly complex challenges. I'm really excited about what the future holds for us as we further grow in our business, help ch ch change our clients' businesses and deliver success for all.
Tags