The three-course menu for tantalising LinkedIn Video Ads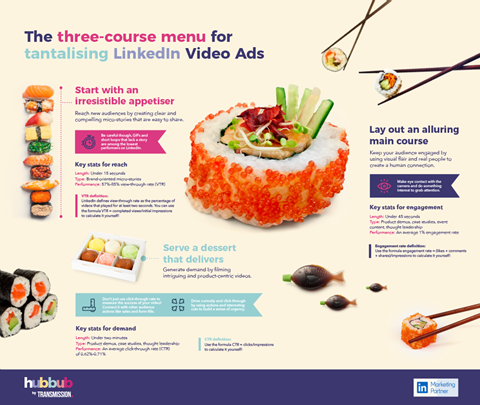 Download the infographic to find out:
What it means to make a successful LinkedIn video
How to film LinkedIn video that achieves your objectives
Why you should create video to address different stages of the buyer journey
Get bite-sized tips to create moreish LinkedIn video
When it comes to video, you're not alone in wondering what 'good' looks like. You can ask a hundred different marketers and they'll give you a hundred different answers. But the crux of the question rests on one thing – what you want to achieve.  
We can all agree that good video achieves its objective. And for marketers on LinkedIn, that can mean driving awareness, increasing engagement, or boosting conversion actions. But while LinkedIn Video ad functionality has existed for years now, uptake still isn't as high as you'd first think.
Using an inherently creative format like video can be a challenge. And when you pair the creative hurdles with the technical requirements of LinkedIn's platform, it can all get a little overwhelming. We get it.
So, we decided to shift the question from what good video looks like to how we can make video that aligns to the buyer journey. After all, creative informed by a deep understanding of format and audience needs is much more likely to generate high-value ideas.
And that's why you're here and hungry for answers.
In this infographic, we'll show you the three-course menu to help you create tantalising LinkedIn Video ads. From bite-sized tips that address the buyer journey to juicy video ideas that drive the behaviour you want – get the tips and tricks you need to make your LinkedIn video moreish.
About Transmission
Transmission is a full-service B2B agency that has vast experience in creating award-winning LinkedIn content and creative. We use our expertise as a LinkedIn Marketing Partner to deliver innovative digital experiences that drive the future of the platform and define what's next for our clients. All in a single, unified offering.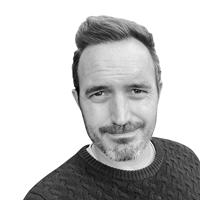 LinkedIn Video ads are a good way to cut through the noise in-feed. However, making them great can be quite tough. In this infographic, we're excited to bring you a menu full of easy to digest tips to make video that addresses every stage of the buyer journey. Yum.

Andrew O'Sullivan, Creative Director, Transmission