How real-time buyer intent data can boost your ABM strategy – WEBINAR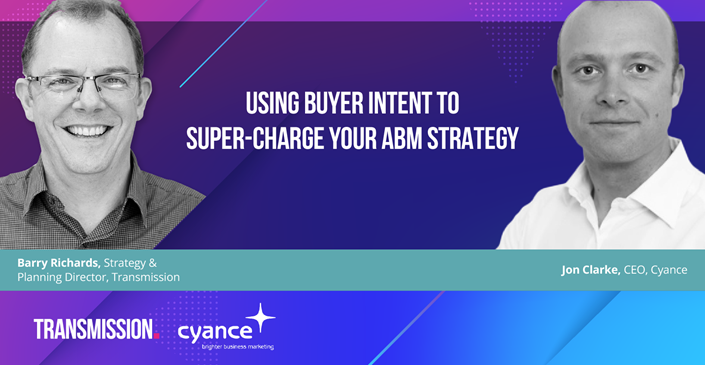 Compared to traditional B2B marketing methods, buyer intent data is accelerating Account Based Marketing (ABM) campaigns and delivering transformational results.
In this upcoming webinar, Jon Clarke, CEO of Cyance, and Barry Richards, Strategy & Planning Director of Transmission, will discuss this revolutionary technology.
Whether you're looking to optimise your current ABM strategy or implement your first initiative, discover how buyer intent data can maximise the results.
The webinar will cover:
What is Behaviour Based Marketing and where did it come from?
Which type of ABM strategy is right for your business?
How to successfully identify who's in-market, right now
How to operationalise buyer intent data into your ABM Campaigns
How ABM fuelled by buyer intent addresses your B2B marketing challenges
The webinar will take place on June 25th – 3:30 PM (BST). Register today to secure your place.
About Barry:
Barry Richards is Planning and Strategy Director at Transmission. With over 25 years' experience in the B2B Marketing industry, he is a seasoned expert with a specialism in Account Based Marketing programmes. He has helped establish and develop the ABM planning, research and insight functions at the agency, helping clients create the right ABM strategy and programme to meet their goals. A key focus has been how Transmission uses data to drive better insights as a foundation for ABM programmes.