Green, Not Greed, is Good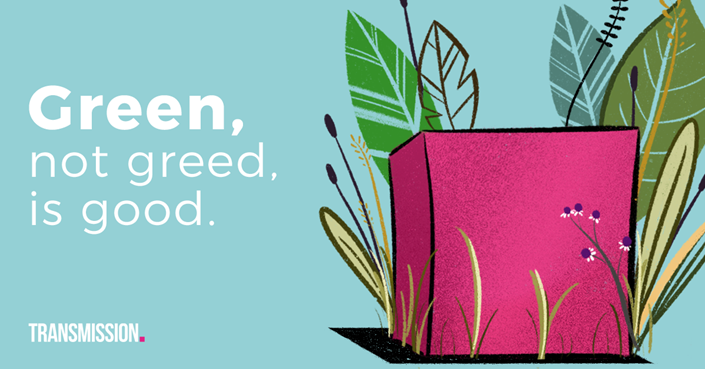 If your business stands up for something, do your customers care?
Customers clearly want the best possible products or services for their business. Should excellent products and services come at the expense of a social conscience or in spite of it?
Think of this in your own business. When your business buys products or services, does it buy the best, the cheapest, or the one with the most compelling social conscience?
These kinds of questions have been resolved, and from an unlikely source. Every year the CEO of Blackrock Larry Fink writes a letter to the CEOs of the companies Blackrock invests in. Blackrock is not your usual investor but is the largest investor on earth with more than $7.4 trillion in assets under management. Yes, that's trillion with a 't'.
This means Blackrock owns shares in a very wide range of companies worldwide. What's more, as a shareholder it can use its influence when voting on company policy. Fink wrote in his 2020 letter to CEOs, "Every government, company, and shareholder must confront climate change."
Blackrock's 'sustainability' agenda is wider than simply pushing 'green' policies. "We believe that all investors, along with regulators, insurers, and the public, need a clearer picture of how companies are managing sustainability-related questions. This data should extend beyond climate to questions around how each company serves its full set of stakeholders, such as the diversity of its workforce, the sustainability of its supply chain, or how well it protects its customers' data. Each company's prospects for growth are inextricable from its ability to operate sustainably and serve its full set of stakeholders."
The debate over whether companies with purpose perform better than those that don't is over, and could not have come from a less 'woke' source. Mr Fink bases his assessment on sound economic principles. If the world is a limited resource, then we must use its resources responsibly.
In practical terms this means company supply chains will be under scrutiny and those companies that do not behave 'sustainably' will suffer. A brand purpose is suddenly the minimum a company can consider – not an option.
To paraphrase Gordon Gekko, "Green, not greed, is good."
Link: https://www.blackrock.com/corporate/investor-relations/larry-fink-ceo-letter