For post-covid-19 marketing budgets, agility is key (and digital is agile).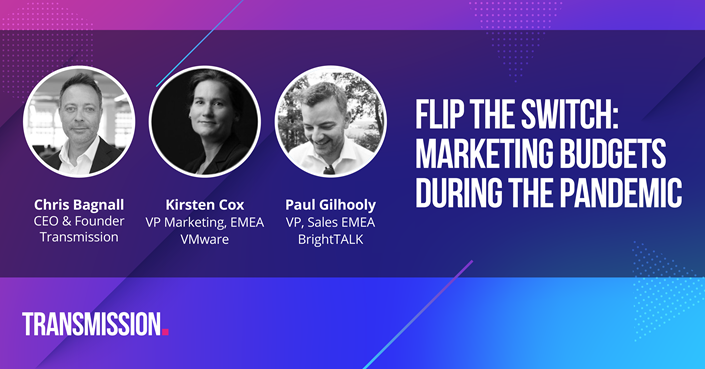 In a recent poll of 600 B2B marketers, BrightTALK found that since the outbreak of this pandemic 54% of respondents have decreased their marketing budgets, 33% have kept it consistent, and only 13% have increased it. Evidence shows that increasing ad spend during a recession can drive a significant increase in share of voice.
https://business.brighttalk.com/webinar-video/flip-the-switch-marketing-budgets-during-the-pandemic/
But not everyone can spend more. The other opportunity for marketers lies in reallocating their budgets, and the key to gaining competitive advantage here is agility. We've seen clients shift more budget to digital, the natural area for flexible, quick, personalised and measurable marketing. Campaigns can be paused, altered or scaled at the click of a button.
This is a theme that kept coming up when I was invited to take part in the BrighTALK hosted webinar, Flip the Switch: Marketing budgets during the pandemic, alongside Kirsten Cox, VP Marketing EMEA, VMware and Jess Bahr, Senior Director of Growth & Analytics, NS1.
New challenges
Agility is not just a buzzword here, it's a survival tactic when everything changes around you. Marketing plans must adapt in response to new data, new business priorities, new customer priorities, the new platforms you have to work with, and the new knowledge you need in your business.
An internal challenge for organisations moving budget to digital is resourcing. More digital knowledge will be needed in marketing teams (partner agencies can help fill the gaps) and certain disciplines will have to adapt their skillset and offering (e.g. events marketing), or risk becoming obsolete. The skills you needed in 2019 will not the same as in 2021.
Externally, online noise and clutter will become an even bigger challenge than it is currently. The popular platforms will get more crowded with content. CPCs will go up, quality and personalisation will be crucial to cut-through, and there will be more requirement for marketers to demonstrate their value.
From long-term to short
For many businesses, pre-planned, high-value marketing costs – such as deposits for events or dinners – have had to be written off. And along with the money, confidence has been lost. It's unlikely anyone will be locking-in large parts of their budget for events months down the line.
The six-month marketing plan is wishful thinking now, and probably unwise. Strategic reviews will have to be more frequent, with openness and adaptability baked-in.
Test, learn, optimise
"We don't have historical data anymore." Jess Bahr used this strong statement on the webinar, and she's right. The huge volume of customer data available to marketers today does not tell us how people act in these extraordinary circumstances.
Perhaps AI will be able to predict how humans respond to the next disaster (we'll have that program when it comes out!), but not this time.
This means marketers must go back to methodical practices of test, learn and optimise, in order to understand what works in the new normal. Digital is the flexible, affordable space to test and measure new ideas.
That's not to say the physical realm is out of play entirely: B2B marketers are finding creative ways to connect the digital and physical. Kirsten Cox spoke about sending bottles of wine to clients and hiring a sommelier for virtual wine tastings as a different way of connecting to their clients. This period has forced B2B marketing to be more imaginative and – drawing from our B2C cousins – appeal to the human at home instead of the job title in an office.
Specialists, not specialism
I don't recall many conversations about global pandemics with my industry peers before this happened! So to say we were set up to be pandemic-proof would be nonsense. But by being a full-service agency – ABM, planning and strategy, content and creative, media – we have been relatively shielded to our clients' changing plans, by being able to accommodate their changing needs.
Specialists are needed at this time to guide and advise clients on their next moves, and to provide the expertise to make them happen. But the more flexible your products and services, the more help you can be.
Getting the budget moving
For many enterprises, moving money and reallocating funds is complex and bureaucratic. But budget agility requires some degree of financial flexibility, and you need a good relationship with finance and procurement in order to achieve it.
Ultimately, reducing complexity and bureaucracy would be good news for budget agility, but in the meantime, demonstrating the value of your new plans and getting buy-in from the CFO will help.
Agile, not vague.
One watch-out for marketers is that planning to be flexible does not result in unclear instructions. Being open to change shouldn't add complexity for your team, with multiple plans and vague goals. And besides, more itinerary plans carry more financial risk.
KPIs can remain the same, and the shared mission should be clear and concrete. Agility should be part of the strategy, not an invitation to veer from one plan to another.
Conclusion
For marketers preparing post-covid-19 budgets, agility must be a consideration at the very least, and made part of the plan if possible. For more insights on budgeting, listen to Flip the Switch: Marketing budgets during the pandemic, or if you need assistance with your digital marketing plans, please get in touch.